What is International Callback Service?
International callback service has become the newest technology to help companies and individuals from around the world to drastically reduce their cost for international calling. This reduction in costs for international calling allows companies to be more competitive in the international marketplace. It also allows individuals to stay more in contact with friends and family members.
Discount calls from any country in the world to any other country in the world!

---
How do I go about making calls with your callback service?
By routing all your international calls through the United States and strategically placed worldwide sites, specialized service providers like UWT make the LOWER RATES of the U.S. phone system available directly to your phone.
After you sign up with us as your callback service provider, you are assigned a unique unlisted U.S. phone number that you will call and then hang up after one ring. Since you hang up BEFORE a connecting answer, there is no charge for the call from your national or local phone company. However, our computer has been signaled that you called and it will IMMEDIATELY call you back.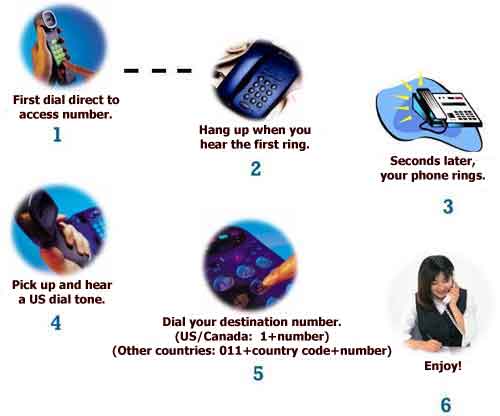 You can also trigger your callback via the internet or via email.
Additionally, SMS callback triggering is available as an easy way to access to our callback service from mobile phones.
How do I get this service?
To use our callback service you must register for free. You tell us which number(s) will be making calls from. UWT will provide you with an United States telephone number which is unique to you.

You need to tell UWT you wish to make a call. The simplest way of doing this is to dial the unique USA number UWT gives you. Let the phone ring once only and hang up. This costs you nothing. UWT's computers realize that you want to make a call.

You will be called back automatically within a few seconds. Answer the phone and you will be asked to "enter your destination number". Make your call and hang up when finished.
Is Callback Service Legal?
To Read the most current report from the US Federal Communications Commission, click HERE.
Copies of the information may be obtained from the Commission's contractor for public service records duplication: ITS, Inc. 2100 M Street, N.W., Suite 140, Washington, D.C. 20037, (202) 857-3800.